Borderlands 3 was one of the worst-kept secrets in videogames, but as of the Gearbox panel at PAX East 2019, it's not a secret at all.
The announcement trailer is pretty dense, as you can see in the debut trailer above. It's a whirlwind tour of the game's new and returning characters, new planets and a tiny slice of the billion guns that can potentially be conjured up. Gearbox revealed more details on April 3, including a release date and a new announce trailer, which you can watch just below.
What is the Borderlands 3 release date?
The Borderlands 3 release date is September 13, and the game will release on the Epic Store exclusively until April 2020.
Borderlands 3 'Mask of Mayhem' teaser
To give us even more to pick apart, Gearbox released the teaser above, dubbed 'Mask of Mayhem', before the reveal trailer. Don't read too much into the Handsome Jack mask, though. "Handsome Jack is dead. You killed him!" said Randy Pitchford at the PAX panel. "He's dead. But we're jerks, so we put that in there."
Who are the Vault Hunters?
Leaks and their appearance in the teaser meant we already knew about Borderlands 3's playable Vault Hunters, but now we're getting to see them in action.
There's the slick, eyepatch-wearing Zane; the tanky Siren with magic arms, Amara; the robotic beast master, Flak; and a high-tech soldier, Moze. Mostly we just get to see them shooting many, many guns, but we also get a few glimpses of their special abilities. Gearbox describe the Vault Hunters like this:
Like her fellow Sirens, Amara has mystical powers, and we see her summoning a bunch of magic arms which, judging by what we know from the leak, are possibly related to her groundpound skill. Moze can summon mechs, according to the same leak, and while we don't see that ability in the trailer, we do Zane riding one. Perhaps Moze can summon mechs for other players to use, or maybe it's just one of the new vehicles. There's a few of them.
What other characters show up in Borderlands 3?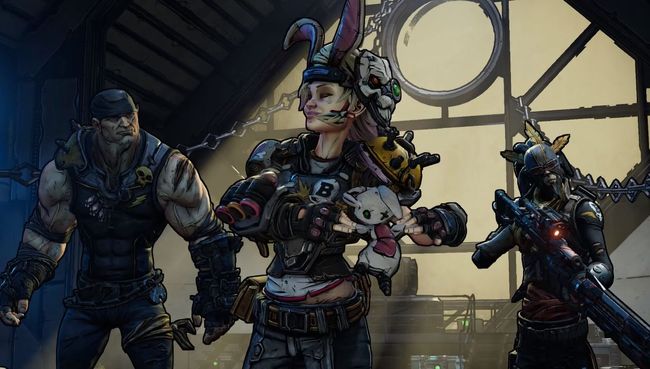 The debut trailer feels a lot like a celebration of Borderlands. It's filled to the brim with familiar faces, including returning Vault Hunters like Lilith, Maya, Brick, Mordecai and Zer0. The latter is hanging out with Rhys, from Tales from the Borderlands, who now sports a funky jacket and a moustache. There's also Tiny (now Regular) Tina, Marcus, Ellie, Sir Hammerlock, Claptrap and a few old enemies, to boot. On stage, Pitchford mentioned Moxxi's back and has a big, very cool bar.
Borderlands 2 also featured plenty of characters from the first game, so this is par for the course, but it does feel like Gearbox is trying to bring everyone together for some big series climax.
Who are the villains?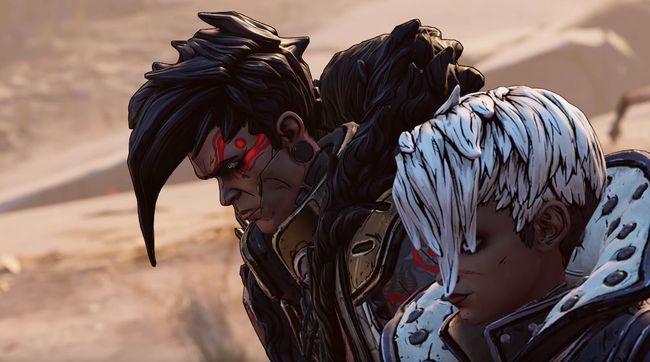 Lots of people and aliens and robots, but you'll be wanting specifics. We got another look at what we think are the Calypso twins, Borderlands 3's big bads. We caught a glimpse of them in the teaser, too, but the trailer actually confirms they're bad guys. As if the aggressive hair wasn't giving them away.
We also see them standing over Lilith as she crawls towards something, looking pretty defeated. Her tattoos are gone—it looks like her powers have been taken—so I didn't recognise her at first. There are lots of Sirens popping up across the trailer, including Lilith with her tattoos, and it looks like they'll be a lot more than just cameos. They're definitely linked to the twins, who appear to be after their fancy magic. The female twin definitely looks like's she's pinched Lilith's abilities.
The twins are joined by an army of psychos, mechs, mutants and monsters. Armored heavies, fire-breathing dinosaurs and returning pests like spiderants and varkids all show up. Why haven't they wiped out varkids yet? They're awful. Nuke 'em all and burn the skies.
What is Borderlands 3's setting?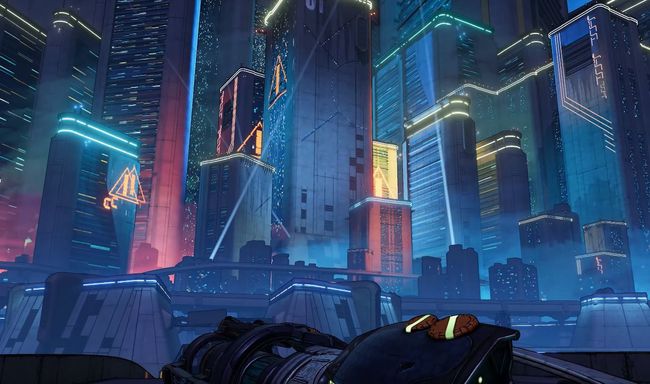 According to a fact sheet from Gearbox, we'll get to "discover new worlds beyond Pandora, each featuring unique environments to explore and enemies to destroy.
"Tear through hostile deserts, battle your way across war-torn cityscapes, navigate deadly bayous, and more!"
The metropolis could be an interesting opportunity to learn a bit more about the awful corporations that run the show, like Atlas. Rhys got his hands on the Atlas certificate that ostensibly gave him possession of the company in Tales from the Borderlands, and he's standing over the Atlas logo in the teaser, so this might be where we meet up with him.
There's sort of a cult thing going on, too. In the backgrounds of the trailer, you'll see a lot of references to the Calypso twins and their cause, like "Answer Calypso Call" or "Rupture Upon Us: Holy is the Mouth That Bleeds." Another pleasant one: "Children of the Vault: Give Your Flesh, Take Your Guns." Yikes.
What sort of loot will be in Borderlands 3?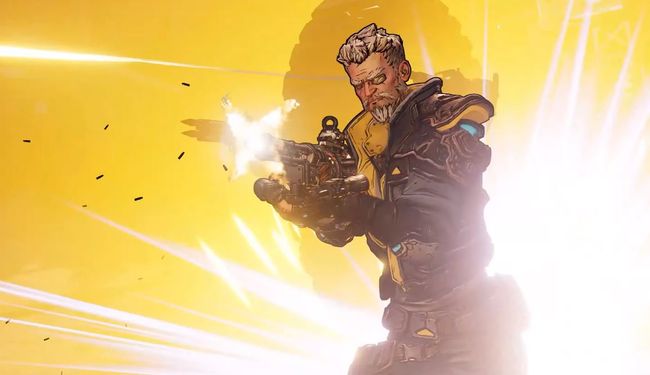 Guns on legs! What a marvellous, terrifying thing. Borderlands 3 will have over a billion guns, presumably with lots of randomly generated properties and surprises. Since looking at a Borderlands gun doesn't really tell you what weird stuff it can do (Does it explode? Shoot acid? Set people on fire?), most of the guns will need to remain a mystery, though you can expect loads of elemental damage and explosions. We definitely see a freeze gun and some other fancy toys.
Gearbox has also promised guns that "chase down enemies while hurling verbal insults", which sounds great. There will be guns with "self-propelling bullet shields"—we don't know what that means—and guns that shoot volcanoes that then shoot fire.
Borderlands 3 has a season pass and many editions
The standard version of the game will cost $60, but that's one of four tiers that unlock cosmetic packs and "Toy" guns.
The mid-tier $80 pack includes.
The $100-$120 edition unlocks a "Butt Stallion weapon skin, weapon trinket, and grenade mod". That includes a season pack featuring four campaign DLC packs made up of "new stories, missions, and challenges".
The ultimate $250 edition includes a bunch of physical loot, including a cloth map, Borderlands figurines, a Sanctuary 3 ship model, and loads more. See the full details on our post detailing every Borderlands 3 edition.
Other Borderlands 3 details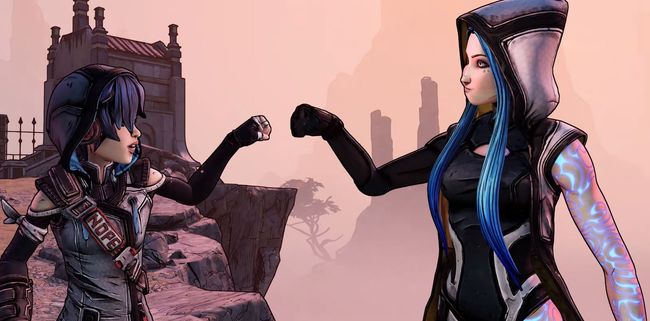 Around 90 percent of Gearbox is working on Borderlands 3. Pitchford told a PAX West panel audience that the studio was full steam ahead on a project "most of you guys want us to be working on." Since no one was brave enough to shout out "Colonial Marines 2," that project is most definitely Borderlands.
Borderlands 2 and The Pre-Sequel are getting free 4K texture packs
Gearbox saw a few notable departures, including writer and Scooter voice actor Mikey Neumann. Borderlands 2 lead writer Anthony Burch also left the studio in 2015. Claptrap voice actor David Eddings moved on to Rooster Teeth last year.